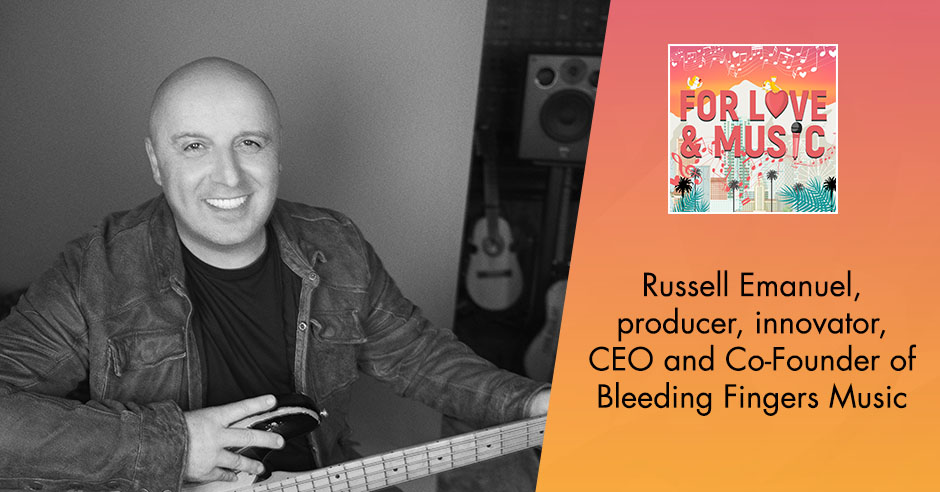 Today Tara Joseph chats to trailblazing leader, innovator and producer, Russell Emanuel, CEO, Chief Creative Officer and Co-Founder of Bleedings Fingers Music.  They discuss how it all began, his creative process and his incredible partnership with the incomparable Hans Zimmer. From scoring iconic shows like The Simpsons to the BBC'S and Sir David Attenborough's Planet Earth II, Russell really is an all round mega talent and power house. Tune in to hear more!
—
Listen to the podcast here:
Russell Emanuel, producer, innovator, CEO and Co-Founder of Bleeding Fingers Music
I'm super excited about our guest. You don't get much more successful than he is. Let's welcome to the show, world-renowned producer, Chief Executive Officer, and Cofounder of Bleeding Fingers Music, and Extreme Music, the amazing, Russell Emanuel. Russell, how are you?
You do get more successful. Kanye is up there.
In the world that you inhabit?
It's a tiny world.
You inhabit an amazing world. Let's not put yourself down.
It's not a real job, let's put it that way.
You're sitting in the most magnificent studio with nine guitars. Do you play all of those?
Not at the same time, I don't. Three at one time is the maximum I can.
Tell us, where are you?
I'm at home. This is my studio, which is in the basement. I do have a wine bar. Everything else is irrelevant.
There's no better place to spend COVID than there with your guitars and all your wine. Have you been locked in there for the past few months? Is that where you've been situated?
Yes. I can get a lot done here, but funny enough you go still crazy wherever you are.
Have you found that being in forced isolation has changed your creativity to choose isolation so to speak?
My job is more social around other musicians and I miss that. Even the remote stuff is a poor substitute. You miss body language. Everyone's very focused on getting everything done in the instant whereas there's much more social. That's the reason we're in this level of work is the social aspect is so great. You mix with these amazingly creative people. Everyone's got busier. Everyone's got to achieve so much in the day that, here's your time slot. I'd never heard the word heart out until I thought it was something rude. Now everyone's got one.
You are CEO, Chief Executive Officer, and Cofounder of Bleeding Fingers Music, which you founded with the incredible Hans Zimmer. How did that relationship come about? What a partnership.
I got very lucky. We've now been friends for a long time, but when I initially heard from him, I was backing dodgy old Camden Town. We had the Extreme Music. We were a very young company. We started in the old Stiff Records Building in Camden Town. We couldn't even spell salubrious. You know Camden Town. It was very dodgy in the late '90s especially. We were plugging away at creating this new company, Extreme Music. We were making a bit of a stir. We were doing some irreverence stuff. Somehow, he'd heard about us. I have no idea what happened. His office contacted us and the phone rang. It's Hans Zimmer on the phone. I honestly had no idea who it was.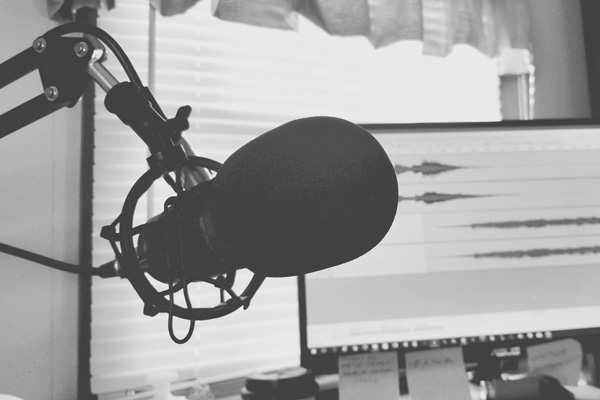 I'd heard the name because back in the day, I used to buy packs of CDs at the time that went into samples. There was a guitar one called Hans Zimmer Guitars. I had that for some reason. I thought he was a guitarist. I flew over. It became apparent immediately as I got to Los Angeles because he had these incredible studios. This was '99. It's amazing to go in that blind and then very scary, very quickly. I got taken into the studio. I can't remember what it was. He was doing something, maybe Black Hawk Down or King Arthur or something huge. It became apparent. I was immediately out of my tent. We became fast collaborators and friends. He has an incredible partner as well, Steven Kofsky, who runs his business side. Together, they're an amazing team.
I would say he is my family now. It was one of those things. It turned into this great partnership. For many years, we weren't in business together. We had this idea of creating a landing place for young, exciting new composers. It's almost an accelerant or a hothouse of spotting this young talent and giving them all the support they need to get into the industry quickly without sitting and making someone's coffee for five years, being an assistant, and seeing that talent wasted. That was the idea. He's a magnet for talent and these assistants would come through the canvas and then there will be nowhere for them to go. There's a finite number of projects. It naturally evolved conversations and the idea. We developed Bleeding Fingers as a place for them to be and collaborate. That was the big part of it was both composers of solitary normally. We wanted this to be a collaborative effort.
One of my business partners, Tim Byrne and I came down to Hans's studio complex in Santa Monica. I'd never been there before. It was overwhelming. One of the things that stands out that you said was young people. It was full of young people. I loved that. Every nook and cranny, there was another young person, who is super talented and learning the ropes from people such as yourself, from Hans from the other members of the senior team. It was exciting to see so much young talent.
All the time people feel that because of the energy and the excitement they bring, it does take some wrangling. We've been very lucky we've built this team. We, at Bleeding Fingers, have 18, soon to be 20 composers. They're all working. When we started a few years ago, we were cutting our teeth on reality TV. Now we're doing a lot of the BBC blue-chip natural history shows, a lot of science shows. We've got some scripted projects underway. We score the Simpsons every week, 22 weeks a year and that's a ride in itself.
That's an incredible gig to get.
We've got composers working on it who are super young for the weight that show carries, the level of responsibility. We won that job a few years ago. I said at that time, "This is like being handed the crown jewels." You've got to be super careful. You've got young composers working on it, which is gratifying, exciting, and a joy to watch them themselves have that experience.
Is that a full-time job for those specific composers?
The show does go on a break for a short time each year, but there are 22 episodes. We're scoring for about 30 weeks a year.
You're very involved with Sir David Attenborough and the BBC Planet Earth II, Blue Planet II. Bleeding Fingers was nominated for a BAFTA and an Emmy for Planet Earth II?
The word 'nominated,' does that mean second position? I'm not sure what that means anymore.
It means you were one of a select group of people.
We've been very lucky. I'm not used to the awards thing. We like getting them, but we keep it under our hat. Don't we? When you're here, people celebrate them almost daily. I'm going to contradict myself now and tell you that we won two Webbys for an amazing podcast that we did for the BBC World Service. You have to listen to the thirteen minutes of two episodes. It's an amazing podcast about the Apollo missions. We've got Best Music and we've got the People's Choice Award. They don't like shock absorbers.
You must get approached all the time to do collaborations and score. Are you quite specific about the work you'll take on? You're probably in a luxurious position where you can be quite picky.
We get offered amazing stuff all the time so we're very lucky. It depends. It's unexpected. The phone does ring even during COVID, which is nice. I've been in the days where it didn't ring. It's exciting when there are unexpected gigs.
Anything you can tell us about?
We finished a very interesting project for the US Marines. What was fun about that was we got to bring the Marines Band into Fox Studio and record them. We have to do it in sessions. It was interesting because we had to bring the precaution in. We had a three-hour sanitization turnover. The brass came. It was a crazy session. The screen is up and only three people in the control room that can probably house 30. It's the new normal. That's exciting. I love podcasts. My thing was a huge podcast. I listened to many of them. The thirteen minutes of the moon thing is so intimate. It's reaching your head.
When you put so much energy into a relationship where you're not being true to yourself, it burns up that creative space.
Click To Tweet
Composing for a podcast was a completely different challenge. Anything around the planet Earth is a joy. Not getting in the way of Sir David's voice, which is the crown jewel undoubtedly. Another exciting project is we've done a symphony for the planet, which will be BBC gifting the nation for COVID. Let's refocus. Let's look at the planet. Let's take our inspiration from the planet. That's with homes and pointing fingers and Sir David. We're featuring Dave the Rapper, as playing piano, which is going to be amazing. That's super exciting. We've done this great thing. Do you know Headspace?
I try and listen to it as much as possible.
We've created a collection of music for them for focus. It's for people to help them stay focused.
When does that go onto the app?
I believe it goes onto the app in a few weeks. We've got this huge diversity and then we're doing a project with you.
Start talking about that because I've only been able to talk about it.
It couldn't get more diverse. Let's talk about that.
One of my business partners, the fabulous, Tim Byrne, who was a fellow music manager. Tim and I were asked by Decca Records in the UK to find four of the best operatic voices in the world, two tenors and two baritones. Some of you may have read the episode I did with the four guys when it came out. For those of you who aren't aware, the group is made up of Georg Festl, who is our bass-baritone from Germany, Edward Laurenson, who is our baritone from New Zealand, Daniel Lopez, who is one of our tenors from New York, half-American, half-Guatemalan, and the lovely David Webb, who is British, one of our tenors. Decca very fortuitously introduced us to the fabulous Russell who is going to be producing their album, which we are recording and will come out soon.
That's a great project. We were having so much fun creating the tracks. It's completely unexpected and something that we haven't done. We produced albums but not this way. Bringing the epic Hollywood orchestration to opera, I haven't heard that done before and it's been an incredible adventure.
The guys are so excited to be working with you. We started to work with you as the Coronavirus started to break. We have to wait a few months until we'll get back together again. Their debut single, When She Loved Me, which is from the Decca Records Disney release Disney Goes Classical which comes out on October 2nd, 2020. It's been wonderful to work with them through this in this short release and preparation for them, then working with you later on in the year. It's all starting to happen for the guys.
They sound great together. They sound like they've been together for a long time. Some of the experimentation that we're able to do there, it's going to be a new sound for this genre. It is a genre. It's a well-trodden path. What we were aiming to do is make it sound fresh. The way we're orchestrating it is very much in the film school vein rather than the classic pop vein. It's working.
That's exactly what we need to do for this project to make it stand out from any of the other groups in a similar vein that has come out before them.
Putting it together with the way we're having to as well is an interesting challenge. We're putting on amazing live drums, incredible drummer over at Bob Clearmountain Studio. You'll get to hear that. We'll film some of that so that you can check it out. Chet Lang is super exciting to watch. I don't know how much we can say. I know that we're going to have some amazing guest players on the album as well.
We have to keep a little bit hush-hush all the way, but I'm excited that we are able to talk about it because it's been a top secret for so long. For a few years Tim and I have been working on this and now that it's happening. The guys are so amazing. They're delightful. We've got you at the helm musically, what more could we want? No pressure intended. This show is called For Love And Music, which is the two reasons that I moved to LA. What I like to try and find out amongst all the music that we talk about is has love ever guided you or helped make you decide on a different route within your career? If the answer is no, that's fine.
I'm not going to say no because I've never thought about it.
Has it made you changed your direction or unexpected twists and turns?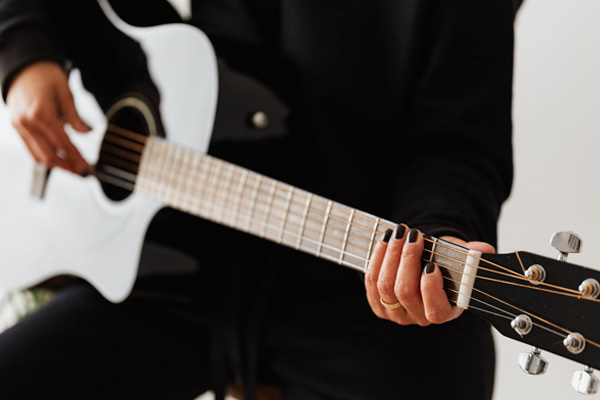 The way to answer it is I did marry my assistant.
That is the best answer I've ever had. Is she American?
She's Canadian. We're both here in Los Angeles. She worked for me in London and then we moved to Los Angeles. At that time, we weren't together. I had sold Extreme Music to Viacom and was coming here to run that. She came over as my assistant.
I find that love can blossom in a different way in LA. That's what happened to me. I came here and fell madly in love. It was all a bit sorted to start with.
The answer is it changed direction. If you found this, I'm not going to make this super personal because I had been married before. What I found was that the person you're with, if they're your best mate, you change. You can be yourself. That gives you the space to be more creative. Many relationships, I was somebody or someone that I don't even recognize now. You put so much energy into your relationship especially if you are not being true to yourself, it burns up that creative space. That's why I realized this. As soon as I was like, "This is someone I can relax with and be myself." We're friends first. It freed up a lot of energy. Much better things started happening in my personal life, but certainly in my professional life.
I wish everyone had such a great answer. Everyone's going to be boring after that answer. Is there a romantic song that resonates with the two of you?
It's probably Why Don't We Do It in The Road.
Why would I even think that it wouldn't be a song?
I gave you that great answer and then completely wiped it out.
We need an operatic version.
We have a relationship where we joke around and if it gets all soppy and gooey, romantic, we would laugh at each other.
How long have you been together?
We've now been together for several years.
Do you have children?
I have five kids. Two were from my first marriage, 26 and 20. I have younger kids, twins of 9, and a 10-year-old. Three girls, two boys, two dogs, two cats.
I met one of your dogs. I'm a big dog person. I bought three furry babies of dogs and cats.
You've got to always strive to be the best at what you do.
Click To Tweet
We have two silver Bengals.
What's next for you? We've got a fabulous Opera Men soon.
That's coming up quickly now. We've got to nail down the rest of the songs. We're doing an enormous, biggest natural history project we've ever done with BBC and another partner. It's ambitious and scary, but it's going to be enormous. It's going to be over a year's worth of work.
Do you bring together your entire team to work on that?
Hans will do the main theme and then there will be two composers because it's such a big project. That's like doing five movies. Simpson starts up again. That's always a ride. It's such a great gig. A lot of our scripted shows were put on hold because of COVID. The UK is opening up production. One I can talk is we did a German scripted, psychological thriller called Pug and Peak, which was great. It was a Netflix show. We're doing Season Two of that. We have a big ITV period drama that we're starting on as well.
There's no rest for the wicked, that's for sure.
I used to be a controller in a minicab company in Seven Sisters. Nothing is harder than that. This is a walk in the park.
It's something that you love doing and you're incredibly successful at what you do. I understand that it would be incredibly enjoyable all at the same time.
People I run into that have had real jobs tend to be grateful. I don't know what you've done. I sold car and wax door-to-door. I was in car insurance.
Can you wear a mask?
Yes. People ask me that even when there's no COVID. We feel very lucky. It always feels fragile. There's incredible new talent coming up all the time. When you've had it rough for a while, you're always looking over your shoulder. It keeps you on your toes. It's healthy.
For our audience, you're an inspiration. Last question, what advice would you give to youngsters in our audience, who would love to do what you do?
You've got to always strive to be the best at what you do. In any career, to be successful, you've got to strive, practice, and continue to practice and stretch yourself. That is a given especially where we have so much access to talent. Even musical talent is better than it used to be. We have so much access to YouTube to see how to learn to play instruments. Fifty percent of it is talent. Fifty percent of it is to be able to get on with people, be in the room with people, and not kill the buzz. The vibe is everything in music. I learned from being in the studios, tape up into the system and making coffee for years and stuff, a big part of it is learning to read people. It's easy to get it wrong. There is a lot of hard work, but you do feel a bit guilty when you see people working. I see people packing bags and working, standing on the top of tall buildings, construction sites. It is a different kind of working hard, but I always feel a little bit guilty when I say I'm working hard.
The thing is that people need music. Music brings happiness. It's a special something that lives within all of our lives. It's okay to say that you work hard within music, alongside someone who's in construction buildings.
What is important and you touched on it is when I met Hans. If you can strive to surround yourself with people that are more talented than yourself, it pushes you. There's a trickle-down. I think of the people that I work with. The younger people coming up, I'm amazed at how incredibly talented they are. They teach me something every day. I expect something and they always over-deliver. People can say no. You can make any phone calls. I was never afraid to pick up the phone to anyone. We worked a couple of years ago with Coldplay and Seer. They can only say no. That's a piece of advice that I give my son who's coming into the industry as well.
Is he a composer?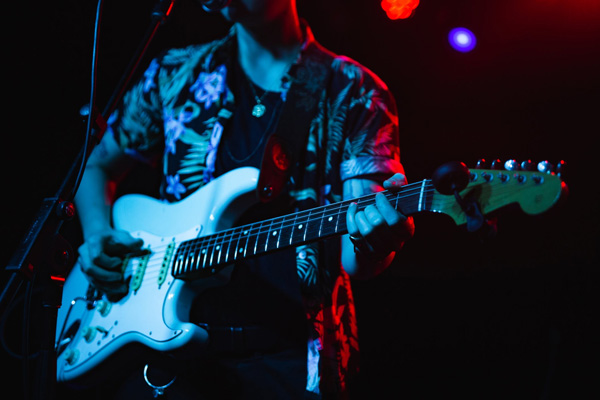 He is. That's the advice I would give everyone. Everybody wants to work and everyone wants to work with great talent so they can only say no. I'll have that on my headstone as well as now you believe I'm ill.
It's been such a pleasure chatting with you. Thank you for coming on the show.
Thank you.
In the meantime, stay safe and healthy. I can't wait to collaborate with you further on wonderful Opera Men. Until then, stay safe again.
You do the same.
Thank you to our lovely audience and you'll be hearing from me soon.
Important Links:
Love the show? Subscribe, rate, review, and share!
Join the For Love and Music Community today: