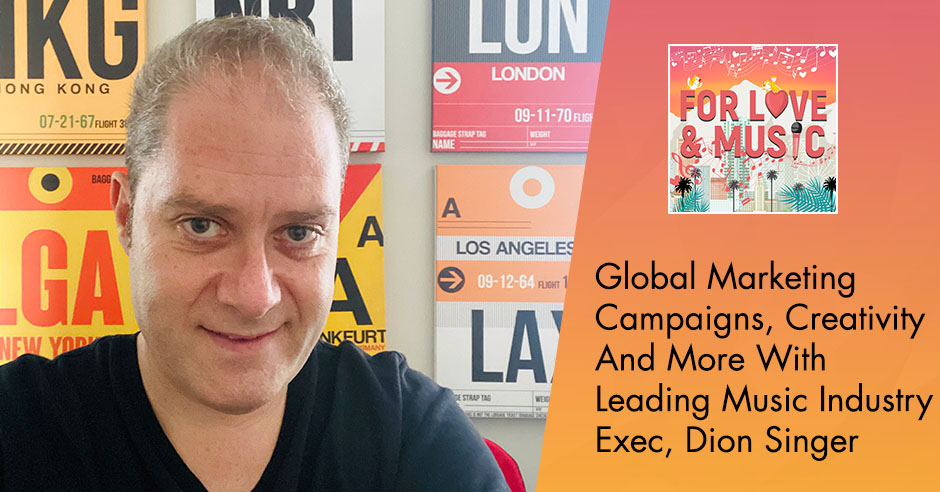 Breaking new musical acts involves a lot of hard work and orchestrating a global marketing campaign is key. Senior music executive Dion Singer did not think he would be doing this highly demanding job when he was a young boy growing up in South Africa during Apartheid. He only knew that he was passionate about his love for music. He stuck to that passion, and one thing led to another, and before long, found himself brushing shoulders with the likes of Madonna, Michael Bublé, Green Day, and other huge stars within the industry. Spending more than two decades in global music marketing and artist development, Dion has helped many artists break out into the music scene through his dedication to his craft as well as running campaigns for some of the biggest artists in the world. He now runs his own company, Over The Top Global. Listen to his amazing story in this conversation with Tara Joseph.
—
Listen to the podcast here:
Global marketing campaigns, creativity and more with leading music industry exec, Dion Singer
Our guest is one of the most respected execs in the music industry. We originally met when he was VP of International Artist Development at Warner Bros. Records. Now, he runs his own successful business over the top global working with some of the biggest artists on the planet. Let's give a very warm welcome to my dear friend, Dion Singer. How are you?
I'm happy to talk to you and excited when I heard that you were doing the show.
Tell us, where are you?
I'm at my home in LA in my little office. When I lived in London, I never had space for any books. When I finally got my place in LA, I was like, "Finally, I'm going to get a wall of books. Why buy one when you can buy more?" I collect books and records. I've used my house as my home office. If anybody wants to talk to me about music or with any musician wants to talk to me about a project, there's an idea that we can steal from somewhere behind me.
There is a magnificent array of books behind Dion. It's absolutely true what he's saying.
One of the things that I've learned from the old Quincy Jones' thing, if you know the history in every which way you can about music, and I try and learn as much and study as much as I can. If somebody has an idea of, "What about this?" It helps you get context about all crazy ideas that you can find to market your music and get your message out there.
You are from a town near Johannesburg in South Africa.
It's a little town near Johannesburg where Charlize Theron is from. I used to take music lessons down the road. She's much younger than me, but I know exactly where she used to live. The Apartheid in South Africa was insane. It was the craziest time to grow up. When I was about 8 or 9, my parents bought me an electronic organ. Nobody knew anything. Nobody said, "Put him on a piano. Get him an organ." I went for organ lesson and that was how I got into music.
You mentioned about Apartheid. I didn't know that television was not allowed in South Africa until 1976?
The Apartheid government knew that once people started to see a television, people would start to ask questions. They also probably realized what a great propaganda tool it could be. I literally remember television starting.  Afrikaans on one night and English on another night at 6:00 to 10:00. I also think it was a very interesting how South  I had a history teacher at school who was from the UK. She always said to me, "It was because of these particular programs, which had taught people, things that they didn't know." It was censored and it insane. You don't even realize it and afterwards you look back at it and you go, "What?"
What a place to grow up. As a young boy with musical aspirations, how did you go from playing the organ to moving on up into the international music scene? How did that happen?
If you're going to do something, do it properly. Don't waste your time.
Click To Tweet
I was very fortunate in that. My parents didn't have a lot of money, but they always found money for music. They'd send me for music lessons. I was crazy about music. All I did was play the keyboards and the synthesizers. I must have landed up one day at a musical instrument shop. I asked if I could play the big, massive organ. It was a spectacle of this little chubby kid playing this crazy instrument and how to get the customers in the stores. From about 12 or 13, certain things happened in my life and things changed. The next thing I had a job in music store. I literally spent my life growing up in these two stores, which sold sheet music, music books, guitars, flutes and pianos. That was where I met everybody. What an education.
From working in these music stores where you must have learned so much, how did your break into becoming an exec happened?
As a Jewish mom she was very much like, "You need something to fall back on. I don't know if there's money to be made in the music business." She wasn't wrong because when you're standing there, I was thinking about it in preparation for talking to you, I remember musicians would come in and say, "I can't afford to buy all the guitar strings. Can I just buy one string?" I looked around and I thought, "You can't make money as a musician. You're probably not that good enough. Off you go to business school." I studied finance and accounting which I couldn't bear, but I did it. I went to a university. I was going to become a chartered accountant.
Probably as I was finishing my last year of university, the music stores were closing down. There was no money. Music was such a luxury item in South Africa and nobody was buying music books. They would come in and they'd go, "Can I have Georgia on my mind?" "It's in this book. Easy listening hits of the 50s or 40s." They say, "Can I photocopy this?" I'm like, "No, you can't photocopy it." You watched the business gets smaller and at some point, the owner who was a magnificent human being said to me, "You need to find a job somewhere else because there's no future here." The biggest independent is a Gallo in Africa. Somebody got me in there and I drove them crazy.
That's what you've got to do, isn't it?
A friend of mine who was a music journalist got me in to meet somebody. she said, "I don't have anything for you, but there's a job board somewhere." She took me somewhere in the building to the job board. I remember they were looking for a royalty clock, for a tea lady and for a salesman. I took off all three and I said, "I can do any three of these. No problem." Eventually, the woman said to me, "If we give you an interview, will you stop calling?" I said, "Sure." I got the interview and I went in for the sales job. It was Kelo Music Productions, which was the traditional black music division of Gallo. There were 12 or 15 people. They sold the Congo music traditional, Soul Brothers, Ladysmith Black Mambazo the band from Paul Simon's Record, that was Gallo, Miriam Makeba, Western Corsi, Mahotella Queens. "Dion, you can't be selling traditional Zulu music driving around Johannesburg." He sent me to see the financial account and to give me a job. That was how I landed up in the accounting department. After a couple of weeks, I said to my boss, "I know I'm in the accounting department, but I want to be in music." It was amazing because they let you get involved in anything and everything.
That was your segue into them joining Warner?
After Apartheid, all the companies that Gallo had licenses with came back into South Africa. EMR were always there, but Sony, Polygram, Universal, BMG and all of the companies came back. Gallo was this huge company with a very small domestic roster and independent labels. After a few years of working, they acquired the Warner license. For probably eight years where I worked down there, that was how I got to know the world of Warner. Not as a Warner employee, but a Warner licensee which is very interesting.
When you started to get to know Warner, and you were given the opportunity to join Warner Bros. Records and you moved to the UK, what was that like? It must've been a completely different culture and all of a sudden, you found yourself working with the lights of Madonna, Green Day, Cher, and others such huge stars.
I can't even explain. On the one hand, it was like landing on another planet. On the other side, is that when you've learned in a record company of how to make money out of nothing, where you have nothing to sell this Christmas, but a couple of indie singles and the greatest classical hits of all time on piano to CDs for the price of one and all that nonsense. The boss said to me, "Your job is you pick up the phone and whoever's on the other end of the phone you'll say, 'What can I do to help you sell albums and singles?'" I'd been doing it in a country, I was like, "I understand. You're right. No problem. You need an extra track. You need to change the cover. You need a different single for Germany. You need a different cover for Japan. What do we need to do to help you break this act?" The guy who brought me was very seasoned and smart guy. The funny thing is, because I being doing it in South Africa, I knew what the people needed. As an example, "We need five pictures. We only have one. How are we going to do a proper marketing campaign?" I knew what you needed to break an artist in South Africa. Why would it be different in Germany, Australia, Ireland or Canada?
You were breaking artists and you were working with huge artists. You originally a VP of International before you were VP of Creative. Explain what that means for our audience. As VP of International, you were working with the artists who were overseas, who were releasing in the UK?
Anything that was coming from America. I did various things. You would think about it this way, it's like sitting in the traffic tower of an airport. The artists are coming on planes and you are sending them, you're working out strategically, "What's the best thing that we can do. You have a television show for this artist. You have something in Italy. Can we find something in Spain? What about something in France?" You put these things together, help everybody, and strategically sit in, you plan out where to go and how you go from market to market breaking an artist.
What was it like working with a Madonna, for example?
It spoiled me terribly and has probably made me very difficult to work with on many occasions.
In what way?
Nobody was touring South Africa in the 80s. The country was a Pariah State. All of a sudden I get told, "You're going to see Madonna tonight. Here's a ticket." The tickets is £300 and I'm sitting three rows from the front watching Madonna. All the records were massive in South Africa, but I'd never seen her in concert, but then you start to watch and the amount of preparation that has gone into making the show, what the show is. When you see it, all of a sudden you go from nothing to working at the highest levels. I remember saying to somebody, "I can't believe all the dancing, all the move, the whole program, how it was all put together. I'd rather pay $100 and see something like that, than pay $10 and see some guy trying to tune his guitar on stage and the amp blowing." I had such immense respect because what I realized was the reason she was that big was because everything was perfect. It made it complicated when I started to meet artists who wouldn't go, but Michael Bublé does everything. There's no issue from his management or the artist. Why do you have a problem with it?"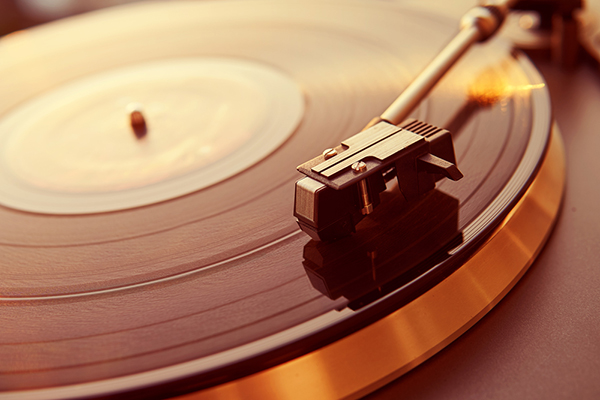 When you have Michael Bublé, Madonna or Josh Groban who was so successful, they work incredibly hard. You have to work incredibly hard as an artist to maintain your success. It's one thing becoming an A-list star is another thing maintaining that level of stardom. A lot of people go up and then come straight down. It's those ones that have the longevity that are the true stars of their generation.
When I look back at the artists that I love or any artists that you love or any artists that anybody does, people make fun of me because they know I'm such a crazy Abba fan. The reason is the records. I go, "That's the kind of band I want. A band that can sell $400 million records." You can use this with any of your favorite artists, when Abba did Waterloo, it literally was the best thing they'd ever done that's why it was a hit. When they did SOS, it was the best thing that ever done. When they did Dancing Queen, it was the best thing that ever done. When did The Winner Takes It All, it was like, "What the hell is this? Number one all over the place." When they did Under Attack in 1982, was that the best thing that ever done? No. No one knows the song except the hardcore fans. You can apply that to any artists. Most artists make good and bad records, but the thing is to keep on going.
As VP of International and then becoming VP of Creative, is that when you moved from the UK to LA?
The guy who was running Warner Records at the time said to me, "The center of music moves. Sometimes it's in London. Sometimes it's in New York, sometimes it's in Berlin. It's back in Los Angeles and everyone's in LA." The company was going through a huge transition in the kind of music they were selling. You have to change the roster. You can't be too reliant on one thing. You have to have enough pop, enough rock, enough black music, enough adult contemporary music. We were doing creative marketing and looking for an idea and seeing how we can use that idea to get an opportunity to open artist's break.
Do you have a particular artist that you've worked with who is your favorite or has excited you most, or you don't want to say because you've loved too many?
I certainly loved so many of them. I'm very fortunate that I've been able to help both Josh Groban and Michael Bublé to have very big careers and watch from the beginning. Me showing up in London, when Madonna's doing Confessions on a Dance Floor, it is very different to me. I'm playing the strict word for everybody that I know. Everybody tells me it's amazing. We have to figure it out, do whatever we can, hustle and call everybody we know. We're not going to stop until this guy selling out arenas all over the world.
I watched David Foster's documentary on Netflix, which was incredible. The way that he basically discovered Michael and Josh and launched them, I presume you must have been a part of all of that and work closely with David. The whole experience must've been incredible.
It blew my mind. I love artists, but I love record producers. I think it's the hardest thing in the world to be able to craft an amazing record that will change the world. David Foster, Quincy Jones, Benny Andersson are my three favorite record producers of all time. I've got to meet them all. None of them have disappointed me. All of them have been completely forthcoming with any mad question I'd asked. I'll tell you what was shocking for a boy from South Africa. It was about 2004. I came to LA and went to see Bublé in the studio. David had that little studio in that house in Malibu. It was a fetched standalone recording studio.
At some point he's sold the house. I walked into the studio and there were gold discs from the one side to the other side. I had every one of those records except for the Bodyguard soundtrack, which I'd never bought for some reason. I had, whether it was The Corrs, Boz Scaggs, Chicago or Barbra Streisand or Natalie Cole, I had them all. I'd had every record. I got the Josh Groban record, I flipped it over to produce by David Foster. You play it to people and then, how hard can it be? Start marketing. I couldn't believe it and then you watch this man working.
He's a genius. On top of that, he's so much fun. The time that I spent working with him when Katherine Jenkins was recording her album with her, when she was signed to Warner's, were probably six of the best weeks I've ever had in the business. You never knew from day to day what was going to happen with David. He was an inspiration and every day was a lot of hard work, but it was fun.
I became a huge Celine Dion fan. David or Humberto said, "Celine, we know you're tired. We know you've had a long day. Please, can we try another take?" She goes, "Take 47. Let's do it." I have such respect for her because it's hard to make records perfect. When you meet an artist that goes, "Soon I've gone somewhere and I've written ten songs and they're all number one hits. My mom loves the record." You don't know what to say to them. It's to walk around the back with David used to have all his tapes and you'd see the artists he'd work with, Barbra Streisand. He's an incredible musician.
When you've worked with someone like that, it's a lasting positive experience that will never leave you. If I come in and out of the music industry for those six weeks, it would have been fine.
One of the greatest days of my life was strange. Bublé finally got asked to be on a Barbra Streisand record. She made duet. I'm sitting in the office and Michael's manager calls me. I'm like, "Where are you?" He was like, "Over in the soundstage on one of the phones." "He's here with Streisand and they're doing the song." I'm like, "I'm like standing outside, send somebody if you get me." I walked into the studio and there was Michael Bublé singing with Barbara Streisand. I'm standing there, frozen in the corner. She comes out, looks at me and goes, "Who are you?" I go, "My name's Dion Singer." She goes, "What an interesting accent."
I said, "I'm from South Africa." She goes, "Jim, he's from South Africa. We have lots of friends from South Africa." We checked for a bit and she said to me, "Can I ask you something?" I said, "Sure. Ask me anything you like." She said, "What is it like working with all of the artists?" I said, "My problem is not the A artists. Everybody works hard, the artists work hard, the label works hard, everyone in the company works hard, management work hard. Everybody wants to be the best. My problem are the Cs. I think they are As." She said to me, "I agree. You're a very nice young man." I'm like, "My mother is never going to believe this."
When we were making that album with David, he called one evening and he said, "Do you guys like Barbara Streisand?" I was like, "We love her." It was 8:00 PM and he said, "It's her birthday. Do you want to come with me to her birthday party?" We drove. A friend was hosting this party for her. We walked in and it was one of those Hollywood occasions that only happen once in your life. We walked in the door and Sidney Poitier was standing there with Hugh Jackman and his wife. Barbara was standing there holding one of her dogs. Katherine had to sing happy birthday and an operatic aria with no rehearsal. David threw her in the deep end, but it was such an amazing night. That was David in a nutshell, anything was possible.
The more young people get to understand what has come before them, the more they will realize that there is more to be done.
Click To Tweet
I don't talk to people about what I do because it sounds pretentiously ponce, and there's nothing worse than, "I've worked with this one." Just keep quiet. I never forget every little thing. It can be from that to a baby artist. For example, I look at Twenty One Pilots who are incredible manager, incredible band. I remember going to their first concert, which was nobody knew what the hell to make of this. They came to London and we went out for lunch and we had a conversation about international and how important it was. I stole this line from the West Wing, "A democracy is decided by the people show up."
I always said that the records and the tickets were sold by the artists to show up. If you show up, then you do the work. I said, "We are going to call you, you're going to go to France. You're going to go to Germany. You're going to think it's the craziest TV show you've ever seen. You're going to think it's the craziest breakfast show, just do it. We wouldn't take you anywhere that would hurt you or embarrass you. Trust us, please," and the boys did. When you see them a couple of years later, getting Grammys and selling out stadiums and it makes my heart happy.
Tell us about Over The Top Global. That's your current company?
This is my consultancy company. What happened was when Madonna was coming toward the end of her relationship with Warner, when she was signed by Live Nation, we had to do a greatest hits record. Putting together a Madonna greatest hits record might be the most daunting thing in the world because no matter what you do, you are going to get slaughtered on the internet by all of the crazy passionate fans. Fortunately for me, there are a couple of people who helped me from some wonderful websites, a lot of the amazing fans.
I know it's like to be a music fan, that's why anytime any fan ever contacted me, I always tried to help them because I know what it was like trying to. "Could you tell me when the next Abba record is coming?" The one is 1988. They may have broken up. We did so much research and I worked on it for about two years. I hadn't seen the final package when it came out of the factory and I've got the final sample. I opened up the booklet and it said, "Management, the publicity, Liz Rosenberg dancing over the top."
When people say, "Have you met that guy? He's a little over the top." I'm like, "Exactly. That's where we want to take you." My dad had a saying and I never understood it until I was much older, but he always used to say, "You cannot be a little bit pregnant. You either are, or you aren't." If I love your band, I've got every record you've ever made. If I don't like your band, I have nothing. I happen to like synthesizers, I've got a room full of them. I love a Black Soul. I've got thousands of records. I always think that if you're going to do something, do it properly, don't waste your time.
What an amazing career you've had and still do have, seriously. I'm glad we found one another again.
This is what I try to say to people, I have great reverence for music. It saved my life. My dad had passed away when I was thirteen years old and I threw myself into music. It saved my life. I have such reverence for it and it's important. It's one of the reasons I have challenges with people that don't respect. They want to be famous. It's all about social media or their pictures on Instagram or TikTok. It's about the music, if you get the music right. I once had an artist had one hit and they trashed their head, and I went insane. I said, "That's not your song anymore. That's my song. I got married to that song. We drove 3,000 miles across the country so we could come and see your show. How dare you trash the song or say you're sick of it."
You have a life. You know what this is like. You know lots of amazingly huge artists and you also know 100,000 more that never made it. An artist once was upset because they didn't win a Grammy. I said to the artist, "You are 1 of 5 people in the world that has been nominated for this award. What are the chances of that?" Maybe, I look at it with different eyes because I'm from South Africa. This is why I have such faith in the future of music.
There's more to do. What does not change is that we've got to educate people, understand the history of the woman who taught Quincy Jones, Nadia boulanger in Paris used to say, "Until you figure out what everyone's done with those twelve notes, you can't do anything else." I'm such a believer and I'm always talking it to music colleges and young people because if they understand what has come before them, there is more to be done. The one good thing about the pandemic, which I find interesting, and I know a lot of people are out of work and I know 60% of the business comes from live, but there are a lot of artists that are using the time to write some amazing songs. The new Taylor Swift record is unbelievable.
I haven't listened to it yet, but I want to. I saw that it's a broken record.
It's authentic. It's stripped back. You hear her voice.
She's so immensely talented. I watched her documentary as well. She came across totally differently to what I was expecting. I had such huge respect for her that all of a sudden, I became a huge Taylor Swift fan. I'd always respected her and liked her music. On the back of that, getting to know her as a person and hearing her such strong beliefs and her feelings about human rights, it was special and I've got huge admiration for her bigger than before.
Something had happened. Two things I'll tell you about it. Michael's manager, Bruce Allen, who is my mentor and one of my best friends in the world. He called me and he said, "I'm flying down to LA, meet me at Staples. We're going to see the TELUS rupture." It blew my mind. We both stood at the mixing desk. Like with Madonna, with the amount of effort and how everybody had a bracelet and the bracelets would light up. How much work and effort had gone into it and that blew my mind with the documentary. This is how you tell how you get to the top. They're reading the Grammy nominations, and she doesn't get any nominations. What she says, "You're going to have to make a better record." It's not about, "The marketing was terrible," "They promoted and do a good job," "The publicity person needs to be killed. What's going on?" It literally took my breath away. I rewind it and watched it twice.
I love about that documentary. Not such a profound way. I'm a big cat person and she maps it. That shows a lot of soul.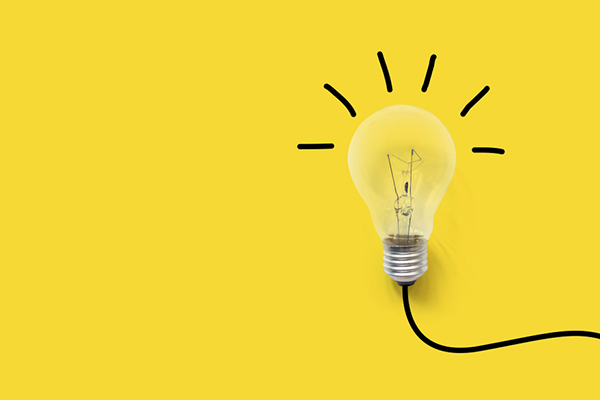 A friend of mine always says to me, you can tell a lot about a person by the way they treat animals.
She adores her cats. That was very special. It's been lovely speaking to you, learning about your journey and hearing about the artists that you've worked with. I'm sure that the readers love every minute.
One of the reasons I was excited about your show is that there is much that is going to happen in the world, in the space of audio, in all kinds of immersive audio experiences. Because people can't go to shows, people are figuring out different things to do. Whether it be spatial audio or a different way of experiencing music, it doesn't matter if it's the Calm App or if it's shows, there is so much to do. When you look back in ten years' time, it's going to be even five times bigger than it was in all over the world. You couldn't get anything in South Africa. You can now get everything by a click of a mouse.
Hopefully, we'll be out of the COVID situation at some point in the foreseeable future. In the meantime, stay safe and healthy. Thank you for being on the show and thank you to all of our fabulous For Love and Music reading. You will be reading from me again very soon.
Important Links:
About Dion Singer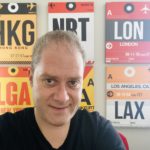 Global Music Consultants / Strategy, Marketing, Digital / Advertising / Biz Development Management & Artist Development
Love the show? Subscribe, rate, review, and share!
Join the For Love and Music Community today: