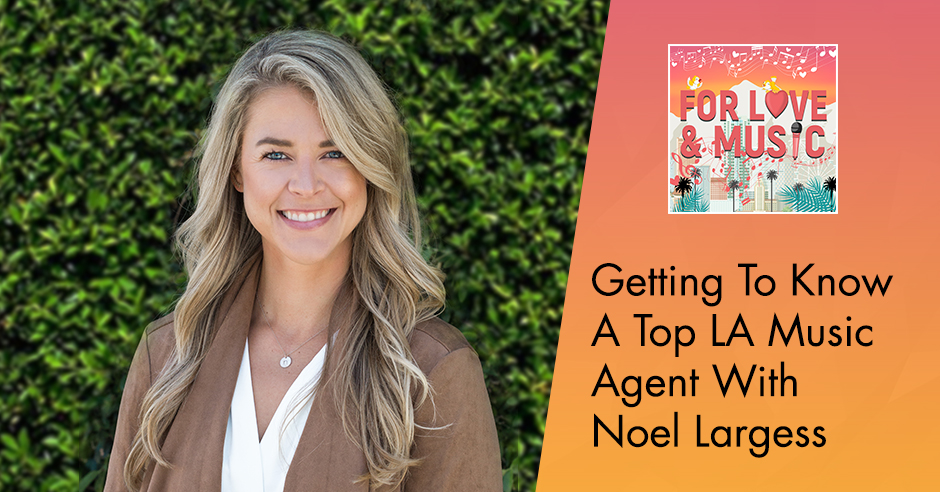 People working behind-the-scenes in any creative industry don't always get the recognition they deserve. Take talent agents, for example. Talent agents help keep the ship that is your favorite artist's career running and consequently, growing. This is the life of Noël Largess of the United Talent Agency. As a cellist herself, Noël understands what life is like for the artist, and that translates into her work as an agent. Noël shares her experiences making tough calls on her artists' behalf and life on the road.
—
Listen to the podcast here:
Getting To Know A Top LA Music Agent with Noël Largess
Interview with UTA Agent, Noel Largess
What I love about this podcast is when I meet someone who embodies exactly what For Love And Music is all about. She is a super talented cello player who plays with the Santa Monica Symphony, as well as being a top music agent at the LA offices of UTA. She also happens to be the most delightful person. As far as I'm concerned, she is an inspiration to other young women in the music industry today. Let's welcome onto the show, Noël Largess. Noël, how are you?
I'm great. Thank you, Tara. How are you?
I'm well. Tell me where are you right now because I know you travel all the time. Have I got you in LA or are you somewhere else?
I'm in my office in LA after a week on the road in New York, a week on the road in Nashville, and bouncing around to all the different conferences. I am new in my position here at UTA. I'm touting all of the new clients and how excited I am to be part of this team. It's been fantastic but exhausting at the same time. I'm happy to be home.
Congratulations on joining such an amazing team and such an amazing agency. That must be quite something to be a part of all of that.
It's been a wild ride. It's wonderful and amazing. It's a big beast and a lot of things to learn but internally, it has been amazingly supportive. I'm ready to take it to the next level and I think I've met the right place. I found my home.
You have because as you probably know, I'm a huge supporter and fan of UTA. It's the best agency and I'm totally biased, 100%. You're on the road for a couple of weeks, and as an agent, your life is probably traveling around quite a lot. How do you manage to keep a balance between all the travel and maintaining a personal life? How do you deal with all of that?
I am lucky in that. Most of my travel is domestic and I also work and live on the West Coast. The majority of the time, I'm not going too far for too long. There's a lot of enjoyment that I gained from getting to visit my clients on the road and from visiting venues that I work a lot with. It is definitely a balance. I also go with the theme of your shows. I'm engaged to a tour manager, so our life is on the road with artists between supporting who he's working with and whom I'm working with. It's nice that we get a chance to overlap in this amazing business.
I'm glad that you mentioned your fabulous fiancé because often, when I do this show, I go, "It's called For Love And Music. How can we incorporate the two?" You've totally shared that information, which makes me happy because I can properly go into For Love And Music with you in detail. How did you meet Rob and who's he on the road with now?
I met Rob at Austin City Limits in 2014. He was tour managing for an artist called Capital Cities who took him all over the world. I met him when they were a client of the agency I was working for at the time. The person that you connect with when you're trying to visit and support a client in an amazing facility like that or in a festival setting, is the tour manager. You text and say, "I'm Noël from so and so." He says, "Come back," and whiz me through. What I loved about my experience with that artist was my relationship with him. He felt that it was important that everyone on their touring party, every artist on that stage and every crew member, was aware that I was there supporting them. I thought that was unique.
Music connects you to a memory.
Click To Tweet
Do you work on any artist together now?
No, we don't. We would, but there's an element of leaving out something that I penciled in the calendar. If we had to go back and forth on the same freeway in the opposite direction, we would have problems. He jokes that agent sometimes, he said, "What do you do for routing? Do you throw darts at the map sometimes?" They don't quite understand routing challenges, building availabilities and all of that. It's great because it gives me a deeper understanding of what I do from occasionally riding the tour bus and occasionally seeing that those overdrives, you make a difference in someone's day or week. We have great synergy with one another. He will look at expense sheets and say, "Why do you think that this is high?" I can give them a little insight, too. We're a nice balance for one another professionally and personally.
I can see how that can quite be yin and yang and I can see how that can work. Have you ever slept on one of those tour bunks?
Sure have, but not my favorite. It's enjoyable and exciting for a night or two and beyond that, "Get me back to the hotel. Please, and thank you, with the door."
I've been offered but I've not done it. I need to give it a go, but I've not taken up the offer.
You'll definitely understand more of what it's like to be an artist on the road if you spend a night or two on the bus. Choosing your clothes and all the things you need for the next couple of days by flashlight in a parking lot, that is my least favorite. You also get close to people quickly as a result of living in that confined space and that's amazing. That's what we do. We're in a social active people type of business.
When you were younger, how important was music in your life? Did you love music when you were a child? I know that you're an amazing cellist, but did you ever consider becoming an agent? How did it all happen?
Music was introduced to me in my public school when I was in fourth grade, at the age of 8 or 9 years old. I find the music programs in public schools to be amazingly important as a result because I have a career. Stemming from that, being introduced to me in an organic way. I came home from a presentation and said to my mom, "I'd like to play the cello." My mom was incredibly supportive and still is. Even though she had no clue what that was, she's like, "Okay." I'm taking it home on the bus. The first time I sat with it and pulled out the endpin, she said, "That doesn't look right. You should put that back in." Music was important in my family, but my late father was a big music fan. He loved The Beatles and all of George Harrison's solo works.
There are a few songs that I still find around me sometimes and remind me of him, which is wonderful in terms of learning and developing the classical piece I brought home from public school and playing music. When you're 8 or 9 years old, it's not the coolest thing. Everyone's playing soccer and softball. I was an orchestra rehearsal on Saturday mornings, but it got me a scholarship to college ultimately and served as a foundation for connecting me to the business side of music later. The philosophy at the university where I attended, Syracuse University, was performance-based. If you are a musician first, you understand what it's like to be an artist later. That's true for me now. Those are my roots, it's a classical performance that when I went to college, I understood and realized that I wasn't cut out to be in an orchestra for the rest of my life. I wasn't interested in teaching and I was lucky that there was this industry program.
If I want to come and see you playing in the Santa Monica Symphony, where do I get a ticket?
First of all, thank you for saying how wonderful I am because I always feel like I'm moonlighting and off my game, but it's wonderful to be still connected to that now as an adult. It's a free organization. We do accept donations, but it's free to the community. We perform 4 to 5 times a year, typically, at Santa Monica high school on Sunday evenings.
If people want to come and see Noël the cellist, doing at her finest, what's the website they need to click onto?
It is SMSymphony.org and the full schedule is there. They typically will list the repertoire we're performing for each section for the spring. Do over 1, 2 and 3 for the upcoming December concert, is Mahler's Fifth Symphony. For all you classical music fans out there, that is quite a challenging repertoire. The organization is amazing and we appreciate your support if you find yourself on the Westside of Los Angeles.
The readers out there, go check Noël out. She's multi-talented, not the only agent to the stars, but a star herself. Going back to being an agent. You're a woman in what has generally been a male-dominated industry, how do you find being female in this business?
I must say that I have been blown away by moving over to UTA. There are many brilliant women here and UTA was one of the first major agencies to appoint a female to its board of directors, which was Tracey Jacobs in 2009. We also appointed Blair Kohan to the board of directors and hired Lyndsay Harding as the new CFO, both in 2018. This all predates me, but it's inspiring to be around a company that supports men and women equally. We have a women's interest group as part of the UTA Foundation, which supports organizations all throughout the city. We also have a La Femme Majeure initiative, which was born out of our New York City office. It's this amazing event that we're hosting the LA version as part of the billboard conference. It's all women welcome. Agents from other companies in addition to internally, managers, what have you, we have promoters.
It's an amazing cross-section by women and for women. It's aimed at inspiring and supporting women at work. UTA was also the founding donor of the Time's Up campaign by donating $1 million when that was started. To be affiliated with an organization that is supportive of that space is amazing. I have some amazing colleagues in this department alone. Cheryl Paglierani is responsible for Post Malone, who is arguably one of the largest, most popular artists on the planet. There's a woman at the helm and it's inspiring. I hope I answered your question.
You did. You've been saying, what a great place UTA is to work and how supportive they are of women. Have you seen, since you've been in the business generally, that there's been a change in the industry? What's your experience of change since you've started?
It's changed for the better. I'm also not sure if part of that is age and experience, we learn as we go. Women absolutely have an equal seat at the table. There was something that struck me a couple of years ago that they were facilitating all of these women's panels. Women this, women that, and they said, "Why don't we have agents who are best? Some of them happened to be women. Why are we focused on making everything about women if we're trying to even the playing field?" I found that interesting. There are challenges. The performing arts world, in my experience and in my opinion, there are more women. There are more women programmers. There's a little bit more of the female energy that is more thoughtful sometimes versus the commercial side, which is turn-and-burn and numbers. I liked being on the performing art side of things as a result.
For those people who might be reading who aren't adverse in the music industry as you or I am, could you explain a little bit about what being an agent is, what you do, how it works, and how your day works?
I'm an agent and we represent bands and artists. We book their life touring events. That could be anything from a festival appearance, a concert event in a seated performing arts center or theater in your hometown. It could be a private event supporting an organization or brand or something like that. Any time you see your favorite artists playing, there is an agent there somewhere on the sidelines who made that happen. My day is scheduling those dates, deciding what's the right venue, the right ticket price, time of year, when will they have new music out, how are we going to support that, and what are the other elements that are happening for them in the marketplace that we're trying to share. Putting all those pieces of the puzzle pieces together is a big part of my day.
It is interesting how you can still learn about yourself emotionally from listening to new artists all the time.
Click To Tweet
How do you go about finding new clients? How do you sign people? Do people come to you? Do you look? How'd you find new talent?
We have great manager relationships like Tara. That was what I was hinting at. Great manager relationships and venue sometimes. I have friends who have said that I hosted such an artist and the opening band was amazing. I thought they were incredible. I love their stories, talent, etc. Most of it is a referral or word of mouth. In the performing arts space, many of our artists are more fully developed by the time they get to us or it's something that we are continuing to keep them working and keep them out in the marketplace versus developing them from nothing into something. I have traditionally worked with artists in an older demographic. They've been established in some cases before I was born but that doesn't mean that the art is any less valid nowadays.
When you're home, are you like, "I need a bit of a break. I'm going to watch Netflix?" Do you sit there and listen to music?
I listen to music all day, every day. Rob and I love to cook. We love hosting parties, which you will have to join us.
I was going to invite myself anyway.
He's a grill master. We love playing music because most of our friends, especially in LA, are in the entertainment industry. We love sharing music with one another. We do a lot of Spotify radio because he likes discovering artists that are similar to the artists that we love. We will definitely get in moods together. I'm feeling more relaxed and I feel like I want something to pump me up. I'm feeling like pop music. Sometimes, we'll listen to Maggie Rogers and feeling mellow. Sometimes, we were listening to Kendrick Lamar. Rob is also in the way that I'm from a classical background, he is a metal guy. He's a metalhead and he loves it. It's interesting because it's scientifically proven how metal and classical intersect and they're complex. We are both stimulated by something that you listen to. There are many things happening simultaneously, and if you listen to classical music, you can listen to it 100 times and hear something new every time. The same can be said about metal and metal is quite melodic if you let it be.
I've never heard anyone say that, but now that you have, it makes sense. When you listen to classical music, you do hear something different every time. I don't listen to heavy metal music. Maybe after this show, I will go and put something on and play it a few times.
Maybe in low volume.
What would you recommend I listen to because I have no idea?
Rob loves Rammstein out of Germany. We saw Metallica live for the first time, which is a classic. Sometimes, he makes me watch that Rammstein live on DVD at full volume. Sometimes, it's enjoyment and sometimes it's punishment. We went and saw Lamb of God.
You know your stuff, don't you?
I'm trying. I always walk in and say, "What's my favorite song before we walk in?"
If you were stuck with Rob on a deserted island for eternity, what three songs would you take with you?
Three is hard.
Four, so you've got two each.
One that we have made our own is Bill Withers' Lovely Day. I love the message of that. It's amazing. If you're going to stick with a classic and only one thing forever, Fleetwood Mac and Rumours. As an ode to my late father, he loved One Headlight by The Wallflowers. I love that song. Every time I hear it, it reminds me of him. Music connects you to a memory and to something amazing and fun or sometimes, it gives you a memory that is not great. It's interesting how you file those things away in your brain in that way.
It's lovely that you've got that specific song that touches your heart with your late dad. That's nice. On another note, but more of a romantic note, is there a song that resonates with you romantically? Don't tell me Metallica for God's sake.
No. I don't know. I can't say that there's necessarily one song, but I listened to music differently based on where you are in your relationship. When you're first starting, every love song, you feel like is written for you. Maybe when you're going through a breakup, you think every breakup song is written for you. I find it interesting how you can still learn about yourself emotionally from listening to new artists all the time.
Has love ever guided you to make an unexpected decision in your career?
Not unexpected, but I was in the spring. I was at a place career-wise that I was looking to make a change. I needed to pause, stop and figure out what that change was going to be. Was I going to pivot? Was I going to continue? I love what I do. I love being an agent. I love booking shows. I love the artists I work with. Love helped me through that because of the support of my partner. When I said, "I can't do this anymore." He was like, "That's okay. If you need to stop, we'll figure it out." Love in that way, guided me to allow the universe to give back to me what I needed. When I was ready to start again, everything came together with UTA at the right time. When I felt refreshed and recharged, a lot of that was love from myself, self-love. Love for my partner and music got me through that a lot. It sounds cheesy, but there are lots of artists that I can connect that transitional time in my life that now I'm out on the other side super happy and thrilled.
Any time you see your favorite artists playing, there is an agent somewhere on the sidelines who made that happen.
Click To Tweet
When I made my chain, it's funny because life is a full circle in ways that you can't always anticipate. I left the agency group in 2011 when I was living in New York because I had a great opportunity to move to Los Angeles. Now, I'm back at a place that was acquired. UTA acquired the agency years ago and when I came back through its doors, everyone said, "Welcome back. Welcome home." That was another amazing transition and it's a different place than where I left. It's amazing how full circle it became for me that I'm back together with friends and colleagues that I've known for 10 or 12 years.
Your UK counterpart is a dear friend of mine and someone I have huge respect for who I've also interviewed for For Love And Music, Heulwen Keyte. I've worked with Heulwen over the years, so it's lovely to have such a great team to now be working with again.
On the theme of love, Heulwen is in there for me, for sure within the agency. We've had great synergy and hit the ground running with sharing artists' information back and forth across the pond. I feel with Heulwen and with Emily Robbins, who's also in that office and Mary Petro, who is our nurse in the New York office. We have this female dream team where we are connected through that classical crossover space and are sharing and inspiring one another. Heulwen has done amazing things in her career and I hope to emulate those in mind.
Classical crossover is a great space to be in, isn't it? Because I've worked in it for many years and it's definitely my favorite area of the business to be a part of. I don't necessarily go home every night listening to classical music, but I love working in this part of the business for a whole host of reasons.
I don't listen to Nessun dorma every night, but it merits my two parts. One is my classical background personally, and also my love of booking and sharing these artists with the world. That ticks both boxes in my opinion.
I play the clarinet.
You never told me. We should duet.
No, because if I dueted with you, it'd burst your eardrums. I can about get out the odd note. I did get to grade seven in the UK but then I got distracted. When you get to 15 or 16, all of a sudden, for me, I wanted to go out in London and hang out with my friends and my clarinet. Clarinet fell to the wayside.
You should dust it off and just play for enjoyment. I took five years off in between, which I might've needed after 22 years straight. Reconnecting with your instrument is amazing and I recommend that to all readers out there. Pick up that instrument, dust it off, and play for fun.
I did play it to my dog and he ran away and hid.
Maybe your career is over for a reason.
I need to stick with the day job. Tell me, what is next for Noël?
The world is my oyster here and I'm actively looking to grow my personal roster. I'm looking to develop some of the artists here. I'm inspired by discovering new artists from my colleagues, even if I'm not necessarily working on the day-to-day, just to get to watch what they're doing. I'm seeing artists like Blanco Brown and Jimmie Allen and we signed Ozuna, who is not new but massive in the Latin space. I got to see a showcase event for Evie Irie, who's a new artist on our roster that out of Australia. She's sixteen and exploding. I'm inspired to apply all of the things that I'm seeing around me to my client base. We're going to take over the world together, Tara.
It has been an absolute pleasure and a joy to have you on For Love And Music. Thank you. Hopefully, you can come back on another time and we can chat further and see how we've got global domination between us.
I would love that. Thank you for having me. It's been an honor.
Thank you and thank you to our readers. Thank you for checking this episode. If you have any questions for Noël, please send them to me through LaLaLanded.com and I will pass them on to her. Thanks for reading and you'll be hearing from me again soon.
Important Links: 
About Noël Largess
NOËL LARGESS joined United Talent Agency (UTA) in Fall 2019 as the west coast agent in the Adult Contemporary department in Beverly Hills, CA. There she represents artists Jackie Evancho, Emanne Beasha, Collabro, Swedish Jam Factory, Break of Reality, and String Theory.
Largess previously spent eight years with Agency for the Performing Arts (APA), booking clients including Air Supply, Brian Wilson, Smokey Robinson, Dave Koz, Frankie Valli, and more in venues ranging from theaters to casinos and amphitheaters. Most notably, Largess played an integral part in bringing Charles Aznavour to the US in 2014. His performance at the Greek Theatre Los Angeles was the highest grossing show the venue had in 10 years, and was ultimately his final appearance on the west coast.
Largess got her start at The Agency Group's New York office in 2008. There she assisted with acts such as Straight No Chaser, Celtic Thunder, and David Garrett, all of whom had strong connections with PBS.
Although now specializing in larger and more commercial projects, her heart lies with theaters and the performing arts. Largess plays cello with the Santa Monica Symphony, a volunteer community orchestra, and graduated with a Bachelor of Music from Syracuse University.
Love the show? Subscribe, rate, review, and share!
Join the For Love and Music Community today: